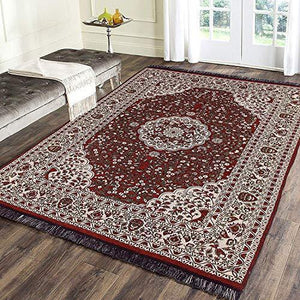 Brand: Vram
Color: multicolour
Features:
Size :- |72" inch x 108" inch | 183 cm x 275 cm | 6 Feet x 9 Feet |
Color: Mehroon, Pattern: Floral, Size Name: Large
Package Contents: 1 Carpet
Can be Used as a picnic mats as the carpet is easy to carry and handle
Care Instructions: Normal Hand Wash in Cold Water
Binding: Kitchen
Details: Vram this chenelle Carpet from the house of Vram style and add elegance to the floor of your living room or bedroom. Bright in colour and beautiful in print, this rug enhances the beauty of your home interiors. Made of Velvet chenelle, this carpet can be easily carried. Vram is known for offering a variety of home furnishing products that can make your home look stylish and sophisticated. The products by Vram are known for excellent quality and style.