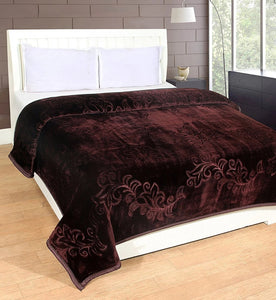 This is a seductive world-famous luxurious mink double bed blanket that comes in soothing color and vibrant embossed style is the best addition to your bedroom essentials. Mink Blankets are characterized by their incredible feather-weight lightness, softness, and warmth. This embossed blanket is made from high-quality fine acrylic micro fiber which enables warmth even in extreme cold. These blankets are thick and plush yet light in weight. They provide maximum comfort and can be easily carried during travel. The higher piles lend a better cushioning effect and enhance comfort.
They would last for years. They can be machine washed any number of times. The typical make-up of a mink blanket is 85 percent acrylic and 15 percent polyester. The acrylic supplies the softness while the polyester keeps the mink blanket from wrinkling. The product has been manufactured in india with modern south korean machines and technology. please note that the embossed design on the product picture can be different when it arrives at your door step. Rest assured they are no compromises with the quality.
Features:
100% Microfiber Polyester good for winter and other seasons. SIZE - 60 x 90 inches
Soft and Plush: Our blanket is made of high quality MICROFIBER material, SOFTER and WARMER than usual blankets. At the same time, the material is FADE and SHRINK RESISTANT, not easy to shed.
Solid color style, SIMPLE but ELEGANT. Two different sides: one side is SMOOTH, and the other is PLUSH, just like two blankets in one. Please note that embossed design will be send as per availabity . Please don't expect same deisgn on blanket.
Great thermal insulated ability, keeps you WARM while provides you with a SOFT and GENTLE touching. Offers you great comfort in cold winter or AC room in summer.
Machine washable, gentle cycle with cold water. EASY CARE, saves you a lot of time and energy and makes your life CONVENIENT and EASIER.
Brand: HOMECRUST
Color: Coffee
Package Dimensions: 17.8 x 13.7 x 9.4 inches