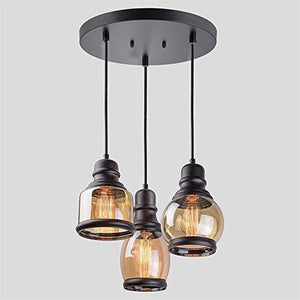 Brand: Ultimate
Color: Multi
Features:
Ultimate ceiling lamp
Ultimate vintage e27 homeceiling pendant in room
UseLamp diwali Lamp light Lamp living room
Use For for living room ceiling for bedroom And All Home Decore
3 filament bulb free free free
Publisher: Ultimate Lighting Store
Details: ULTIMATE LIGHTING STORE Give your home increased touch of sophistication and class with this unique and stylish looking product from ULTIMATE LIGHTING STORE. This is a three light industrial looking small pendant, this light fixture provide a very classy and antique industrial look, This lamp is a hard wired fixture. This fixture doesn't have a glass or plastic globe it is made of metal. Note:If for any reason you are unhappy with any product sold by ULTIMATE, please do not hesitate to contact us. We take full ownership and responsibility for the quality of our products and will do our best to solve your problem quickly.
Package Dimensions: 15.7 x 13.5 x 9.7 inches