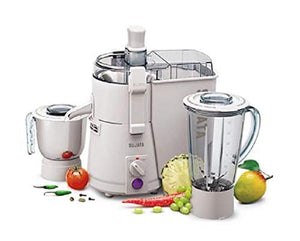 Brand: Sujata
Color: White
Features:
One year warranty
Power: 900 watts, Protection: Class I double insulated
Includes: Juicer continuous(90 minutes), Blender 1750 ml, Grinder 1000 ml.
Most powerful 900 watts motor with double ball bearings for efficiency, low maintenance and trouble free running for years
Juicer with unique honeycomb filter mesh for finer juice with higher yield
22000 rpm operation- retains original flavour and aroma of juices and food
Binding: Kitchen
Details: Sujata Powermatic plus juicer mixer grinders are arguably the best that money can buy. It has proven itself over decades of toil and heavy use in thousands of hotels, cafes, juice parlours, etc. Perfect for homes, a sturdy, problem-free, reliable companion for life.
Package Dimensions: 21.7 x 14.6 x 10.6 inches