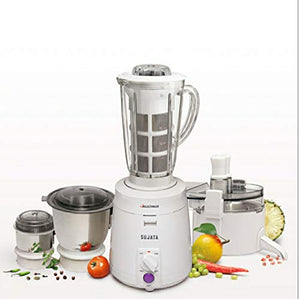 Brand: Sujata
Color: White
Features:
Most powerful 900 watts motor with double ball bearings for efficiency, low maintenance and trouble free running for years.
90 mins. continuous running- for longer usage.
2 separate stainless steel jars for dry grinding and chutney grinding.
Unbreakable, transparent blender jar with coconut milk extractor attachment.
High strength stainless steel blades that cut finer and faster and Totally shock-proof and safe.
Details: Sujata Multimix is a complete kitchen aid, which combines a mixer, grinder, juicer, chutney grinder and a coconut milk extractor all in one unit. It is can do everything that is possibly needed to do in a kitchen in the quickest of time giving the best yield.
Package Dimensions: 22.8 x 14.3 x 11.5 inches