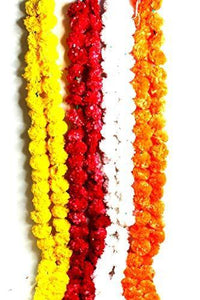 Brand: SHOPEE
Color: MIX
Features:
Light in weight. This will make them look like natural genda phool.Ideally for diwali decoration / home decor / diwali collection / wedding decoration
Its made by recycled fiberE
Length of the single Strings 5.5 feet
For decoration Festive decoration, door Hanings , office décor
4 COLOR GENDA PHOOL X 2=8 PCS
Details: Flowers Garlands / Toran are one of the best decor which gives a fresh look for marriage, parties, occasions, functions, get-to-gethers, marraige anniversay, birthday party, events, parties, outdoor decoration Diwali / Navratri / Ganesh Chaturthi festivals and other purpose of your own interest and taste. Phool Mala hold exclusive Rights of images and content ,use of this text or images may result in legal action.
Package Dimensions: 3.9 x 3.9 x 3.9 inches