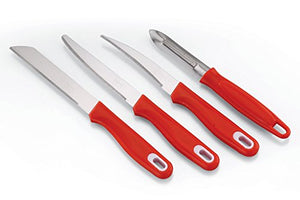 Brand: Pigeon
Color: Multicolor
Features:
Stainless steel with hollow ground edges
Soft grip contoured handles, INDUCTION COMPABILITY: NO
Color: Multicolour, Material: Stainless Steel
Package Contents: 4-Pieces Knife
Country of Origin: India
Binding: Kitchen
Details: Knife has been tempered from high quality stainless steel. The blade has been crafted with the utmost precision and under closest supervision to maintain a superior cutting edge. Made from fine qualit ...
Package Dimensions: 10.0 x 4.5 x 0.6 inches