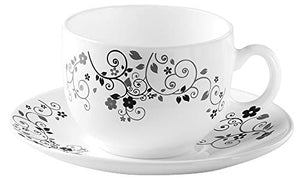 Brand: LaOpala
Color: White
Features:
Pack Content: 6 Cup and 6 Saucers
Brand: LaOpala
Capacity: Cup 180 ml
Material: Opal Ware
Microwave Safe: Yes , Dishwasher Safe: Yes
Binding: Kitchen
Details: Enjoy your favorite beverage with these beautifully designed cups and saucers to begin your day on a positive note. These lovely dining accessories are an ideal element for a refreshing tea. These irreplaceable pairs are available in multiple designs and countless colours to suit your needs and match your decor.
Package Dimensions: 16.9 x 6.9 x 3.7 inches