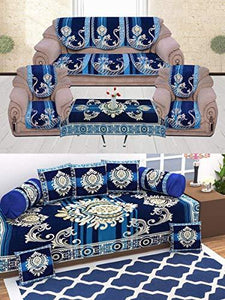 Brand: Kk Home Store Decor
Color: Multi-03
Features:
Package Contents - Diwan Set- 1 Single Bedsheet (88 X 56 Inches), 5 Cushion Covers (16 X 16 Inches) And 2 Bolster Covers (31 X 16 Inches), Sofa Cover-1 Long Back Cover For 3 Seater Sofa, 1 Long Seat Cover For 3 Seater Sofa, 2 Back Covers & 2 Seat Cover For Single Seat Sofa, Table Cover-55X35 ( In Inches)
Fabric- Chenille Velvet
Sofa Cover Size :1 Sofa Seat Cover- 170 cmx67 cm
3 Sofa Back Cover- 170cmx67cm, 2 Chair Seat Cover- 57cmx65cm, 2 Chair Back Cover- 57cmx65cm,This Is An Exclusive Premium Quality Heavy Fabric Living Room Sofa Set Cover Combo With Diwan Set And Table Cover.A Complete Room Set For Your Living Room.Kindly S" Color Options " For More Colors And Designs For Better Selection For Your Living Room
Beautiful Set Of Your Drawing Room, Care Instructions: Machine wash in cold water with similar colours, Tumble dry low, Do not bleach, First few wash separately, Dark colours to be wash separately
Publisher: Kk Home Store Decor
Details:
Liven up your Home With This Attractive and beautiful Combo of Diwan Sets And Sofa Cover Sets with Table Cover. This Room Set will look gorgeous in your Living Room and give a hint of style to your Decor.
Diwan Set is of 8 Pcs
Includes
1 single bedsheet (88 x 56 inches) 5 Cushion Covers (16 x 16 inches) and 2 Bolster Covers (31 x 16 inches)
Sofa Cover for 5 seater is of 10 Pcs
1 long back cover for 3 seater sofa
1 long seat cover for 3 seater sofa
2 back covers & 2 seat cover for single seat sofa Table cover is of 55x35( in inches).
All these items are of heavy fabric chenille with jute mix.