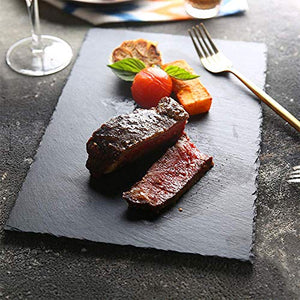 Brand: Incrizma
Color: Black
Features:
NATURAL SLATE MATERIAL,HEALTHY AND DURABLE - Made with natural black slate,our each single slate board you order will have its own unique texture,a bit chippy on the edges but smooth to the touch.Perfect size for personal charcuterie and cheese.Everyone who loves life deserves the natural healthy slate plate.
EASY TO USE & CLEAN - When food touches slate,it feels like meeting a best friend which even creates an extremely gorgeous situation.This cheese slate board shows elegant presentation to your lovely food.No dust or residue involved,and you can easily clean any drops or spills off the slate plate with a simple damp cloth,rinse and dry thoroughly.Best to coat them with mineral oil before/after use.Do not recommend in dishwasher.
PERFECT SIZE - 11.75 x 0.5 -Inch thickness,the round platter is perfect for your wine,cheese dinner party.It is large enough for making a great arrangement of items such as cheese,crackers,grapes,olives,nuts,dried fruits,vegetables,drinks etc.Everyone who loves hosting parties should have.
MULTI-PURPOSE FOR ULTIMATE GIFT GIVING - The slate cheese board are suitable for hot and cold food.Display to your guests the selection of tasty cheeses by writing them on your slate chalk board.Not only for cheese,food serving,but as coasters,placemats.Perfect gift for birthday,holiday,wedding,housewarming or parties,especially the up coming Christmas!
Binding: Kitchen
Details: Incrizma elegant natural sturdy easy cleaning cheese slate board,coasters,placemats for parties. Using warm directions and board care: 1. Please handle with care when using it to avoid hand injury. 2. Please hand-wash with a soapy sponge,rinse and dry thoroughly extend slates life span. 3. Do not immerse in water or wash in dishwasher. 4. Do not use as a cutting or carving board. 5. To hide any scratches,rub slate with mineral oil. 6. Not suitable for microwave,oven. 7. Food can be directly touched with the slate. The surface and color will be more clear and brighter when the grease permeates through it.
Package Dimensions: 13.8 x 8.3 x 3.1 inches