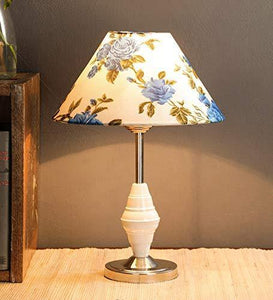 Brand: Improvhome
Color: White
Features:
Material: Metal and Fabric
Best Suitable for : Desk lamp, bedside lamp, living room lamp, table lamp
Publisher: Improvhome
Details: Improvhome presents you Sturdy metal base lamp with 10 inches diameter polycotton shade providing a touch of classiness to your living space. Design with the traditional classic style, this captivating metal table lamp is a great lighting fixture to add a beautiful and natural element to any room. A sturdy metal base is topped with a shade, and it casts a warm and soothing light, perfect for placing on your nightstand or side table beside sofa. Add lamp from AADHYA CREATIONS to your magical home.
UPC: 803480810400
EAN: 0803480810400