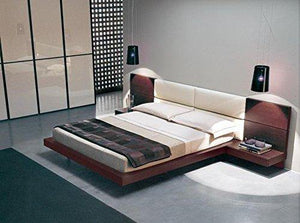 Brand: HEKAMI
Color: White leather
Features:
Product Dimensions: Length (88''), Width (80''), Height (11'')
Assembly Required: The product requires carpenter assembly and will be provided by the seller
Warranty: The product comes with a 12 month warranty against any manufacturing defects and any other issues with the materials that have been used
Recommended Mattress size 72 x 78
Material : Waterproof and Termite Proof Plywood : Mattress Support 12MM MDF
Details: This sturdy, fuss-free design makes for an appealing addition to your space. Upholstered in pleasing shades, the headboard is a stunner. Hekami king size bed with side tables with upholstered headboard .Fully termiteproof and waterproof plywood is used in manufacturing of the bed. In bedrooms that feature large format artwork, a low bed stays out of the way. But this one still makes a subtle but tasteful impression with the luxurious layering . Low ceilings and lofted bedrooms are an exceptionally good reason to invest in a low bed. A traditional bedframe just wouldn't be feasible here.
Package Dimensions: 120.0 x 82.0 x 36.0 inches