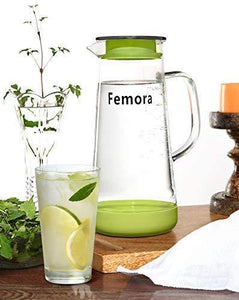 Brand: Femora
Color: Green
Features:
Sleek, modern design makes this the ultimate versatile piece for everyday use, as well as for hosting company. For ultimate convenience, the Femora Jug fits perfectly in your fridge door.
Material: Borosilicate Glass || With Stand Temperature: 10*C to 350*C|| Pour Boiling Water or Tea or Coffee Without any Fear
Capacity: 1500ML || Dimension: 24*10*24 cm diameter: 9 cm Handle: 5 cm || Silicon Bottom for Extra Protection || Color: Green
Stainless Steel Flow Top: Made of Borosilicate glass and has a stainless steel top with a silicone seal. This kind of glass is thin, lightweight and durable
1 Year Warranty against Manufacturing Defect.
Binding: Kitchen
Publisher: Femora
Details: Enhance the health of your family by introducing a convenient way to fill up with water 1.5l capacity holds plenty of liquid. Also perfect for juice, wine, iced tea, coffee and more.
Package Dimensions: 10.6 x 6.2 x 4.5 inches