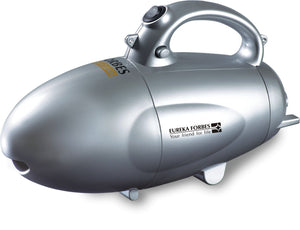 Brand: Eureka Forbes
Features:
This product does not require installation. please contact brand customer care for any product related queires. Please contact_us on: [ 18602661177 ]
Portable Vacuum cleaner with 800 watt motor power
Both suction and blower functions
Lightweight, handheld vacuum cleaner which is ideal for daily cleaning
Special 18 feet long cord for easy reach around the house
Blower accessory for multipurpose use
Dust cup for easy disposal of garbage
Warranty: 1 year on product
Binding: Kitchen & Home
Details:
Compact and Portable Design
The Eureka Forbes Easy Clean Plus vacuum cleaner has been designed to let you complete all your cleaning tasks easily. It has a sleek design that is also very portable, making it easy for you to carry this vacuum cleaner from one room to another for cleaning purpose. Furthermore, this vacuum cleaner is quite lightweight and weighs a mere 1.8kg, making storage a quick and easy affair. Additionally, the handy shoulder strap provided with the Eureka Forbes vacuum cleaner reduces the hassle of carrying it, making sure you don't have to drag it behind you.
Powerful Motor
You can now depend upon the Eureka Forbes portable vacuum cleaner to do a superb cleaning job for your home. Operating on 230V of power, the motor of this portable vacuum cleaner offers 800W of blower and suction power. Apart from using it as a suction to remove dust, you can also use it as a blower to blow dust and dirt from shelves, book cases etc. with ease. The opening for the suction is present on the front of the Eureka Forbes 800 Watt vacuum cleaner, while that of the blower is present at the back.
Features a Bag-Less Design
The Eureka Forbes Easy Clean vacuum cleaner features a bag-less design, where the dust is collected in a permanent dust bowl instead of using a bag. This makes it easy for you to get rid of dirt without having to spend on purchasing new bags. The 2.7-m long cord of this easy clean plus vacuum cleaner allows you to easily manoeuvre the vacuum cleaner across the house. It also comes with multiple attachments like flexible hose, multi-purpose brush, floor and carpet brush, blower adapter and more to help you clean each and every part of your home.
Brand: Eureka Forbes
Power Consumption: 230V
Motor Output: 800W
Vacuum Speed: 14L per second
Blower Feature
Weight: 1.8kg
Shoulder strap for easy carrying
Bag-less design
Cor

Package Dimensions: 13.9 x 8.6 x 8.4 inches