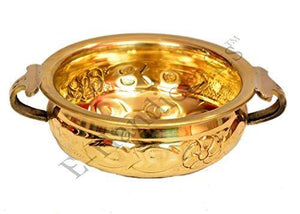 Brand: E-Handicrafts
Color: gold
Features:
Urli is patterned after the classic Indian design with intergrated handles and an attractive tappered shape. This can be displayed empty or filled with water to float candles or flowers.
Dimensions= 6 inch diameter and 2.5 inch height, weight=300grams.
Exquisitely hand-crafted in Moradabad(known as Brass City) by master artists.
good gifting brass item at a very affordable price.
Care: Do not clean with harsh chemicals.Use lemon juice or vinegar with sand to clean it.
Details: Easily recognizable by its distinctive shape, the urli makes a handsome addition to the decor of any room, and now, you can enjoy the beauty of one that is made according to the time-honored traditions in your own home with the handmade brass urli. Produced using sand casting techniques that have been passed down through generations of skilled metalworkers, the handmade brass urli is a truly authentic indian urli. To display the bowl in the traditional way, fill it with water and then float living or artificial flowers on top. Add water to the urli, mix a bit rose water and float flowers of your choice. You can also place floating candles on the surface of the water. Beautify your home with this traditional indian decorative design.The item is highly durable, elegant and a wonderful addition to your home decor.
Package Dimensions: 7.6 x 6.9 x 3.1 inches