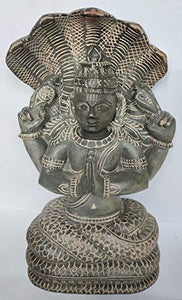 Brand: Artisans Orissa
Color: Black
Features:
Perfect for your home altar this patanjali statue is made the traditional way and is a reverent idol to use for your offerings
Material:Odisha Stone(Soap Stone).Various Sizes Availabe Like( 4"/5"/6"/8"/10"/12"/15"/18"/24" )
Patanjali in meditation with four arms and his lower portion as the Ananta Sesa Cobra,representing the original source of all teachers & gurus. His 2 rear hands hold the emblems of Vishnu, A Discus and Conch, while his front hands are in the Namaste or prayer postion, the Anjali Mudra.
These Indian stone art statues by the Indian craftsmen are suitable for decorative purpose as well as unique Indian gifts.
Simply dust the piece as needed.If you really want it to shine you can use a cotton cloth to buff the smooth surfaces which really makes it glisten.
UPC: 070983778791
EAN: 0070983778791