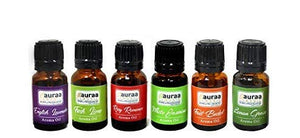 Brand: Asian Aura
Color: Multi
Features:
Package Contents: 6 Aroma Oil Fragrances (ENGLISH LAVENDER, ROSY ROMANCE, FRUIT BASKET, FRESH LIME, LEMON GRASS, WHITE JASMINE) 10 ML each
Stimulates and relaxes the body.
It helps in relaxing and rejuvenating your mind and body.
Aroma diffuser oils are easy to use. Add a few drops to your diffuser , candles or potpourri and let the magic happen. These oils have many essential benefits.
Safer alternative to candles and incense. Suitable for all kind of ceramic/ stone Diffusers can also be used as a reed diffuser refills, can sprinkle few drops on the potpourri for fragrance replenishing
Binding: Health and Beauty
Details: ROSY ROMANCE- In Addition; Rosy Romance Aroma Oil Said To Enhance Libido; Reduce Stress; Stimulate Circulation; Sharpen Memory and Boost Mood. ENGLISH LAVENDER- English lavender Aroma Oil Is The Most ...
Package Dimensions: 5.5 x 3.1 x 3.1 inches